Notes on the Adaptation
H. Leivick originally wrote The Golem (first published in 1921) to be read, not performed. Though it has been produced frequently throughout the world since its premiere in Moscow in 1925, the play has always been trimmed for performance.
The Manhattan Ensemble Theater adaptation is but the latest in a series of adaptations that have been visited on the work.
This particular adaptation was born of a conversation I had in the summer of 2001 with Prof. Joseph C. Landis, the translator (in 1966) of a famous volume called Five Great Jewish Plays (later Three Great Jewish Plays in its 1970s and 1980s reprints). Prof. Landis encouraged me to do a new adaptation that would make the play newly accessible to today's theater audiences. With his encouragement and editorial advice, I worked from his translation.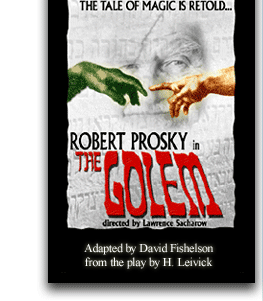 The main work of my adaptation has been to heighten the plot's movement. What Landis has called the "arias" or long speeches of the play have been trimmed to their essence. The language has been tweaked slightly in an attempt to give the dialogue an immediacy — always taking care to preserve the power of the original verse. Scenes that diverged completely from the central plot were cut (notably much of scene 7 in the original), and the arc of the play's latter half has been tightened. But taken as a whole, the play you'll see tonight is, in every way, H. Leivick's The Golem with a new coat of paint on it, perhaps, but delivered intact.

— David Fishelson